Start Building your new Intranet Today!
Free 30-day Trial. Full Feature Set. No credit card. No commitment required. An email will be sent to you with your secure login credentials. The URL to access your Noodle will be based on your company email address.
We are happy to announce a new Noodle feature for both our cloud and on-premise options: Single Sign-On (SSO). Our Noodle team is always striving to incorporate our customers' feedback and give them the ability to be more productive and engaged with our intranet software. This feature has been requested time and time again by intranet managers, and we understand why. Each login screen is another obstacle in their employees workday, and having to remember all those passwords or go through password resets is a real pain point. We've added this, while ensuring that all of your data remains secure.
For those that aren't familiar with Single Sign-On, this feature enables users to use one password for all of their connected applications. Some employees may use active directory for this feature already, and not be aware of it due to its ubiquitous nature. For those that use active directory, our new SSO feature extends the ability of your active directory's single sign-on seamlessly, so that you don't have another password to remember to log into your Noodle Intranet site.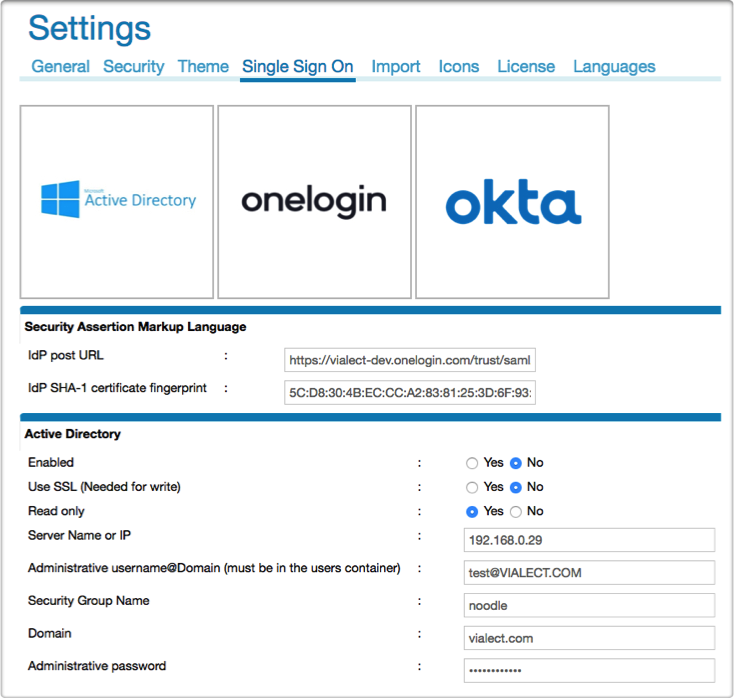 Noodle supports LDAP and IWA allowing authentication with Microsoft Active Directory, and Single Sign-On (SSO) with Kerberos. With Noodle's single sign-on option, you can also use your preferred third party services, such as One Login, Centrify or Okta to enable single sign-on.
With any of these options, your users will be able log into their computers and connect to Noodle and any other connected applications seamlessly with one credential. This eases the burden on the IT department and employees by reducing the number of password to remember and the number of password resets required of IT.
Now, for some organizations, having a separate log in helps protect the information on their intranet. So SSO may not be the best option. But you can still sync your users with the Active Directory and even add other protection such as Two-Factor-Authentication, Whitelisted IPs and more. In the upcoming weeks we will be discussing other security options available with Noodle.
If you have any question about Single Sign-On, please contact us.
Not Using Noodle Yet? Learn More or Book a Demo Today! We would love to hear about your intranet project.