The Noodle development team has been hard at work and we know you're going to love what they have come up with this time. With our newest version of Noodle Software you now have access to Noodle's all new Task Manager application. The Task Manager has not only been redesigned visually, it also includes many new features that your project teams are going to really enjoy.
The Task Manager application allows your team to create Kanban Style columns and tasks. Tasks are stored as drag and drop tiles underneath the columns. You can easily customize columns to match your company's personal workflow and process.
Keeping your team on track is easier than ever using the Report Options, allowing you to filter your tasks by progress, assigned user, and upcoming due dates. From a team leader perspective you can now visualize your project workload and see who's working on what in real time, all in one collaborative workspace.
Task Manager Features:
Drag and Drop Kanban style columns and tasks for easy use
Get feedback with comments and attachments for each task (View thumbnail of attached images right inside the task tile).
Set task due dates and be visually aware of bottlenecks as tasks turn red when past due
Mark tasks as incomplete, in progress, and completed.
Assign individual users to tasks
Use Report Options to filter tasks by "Progress", "Assigned To" and "Due Date"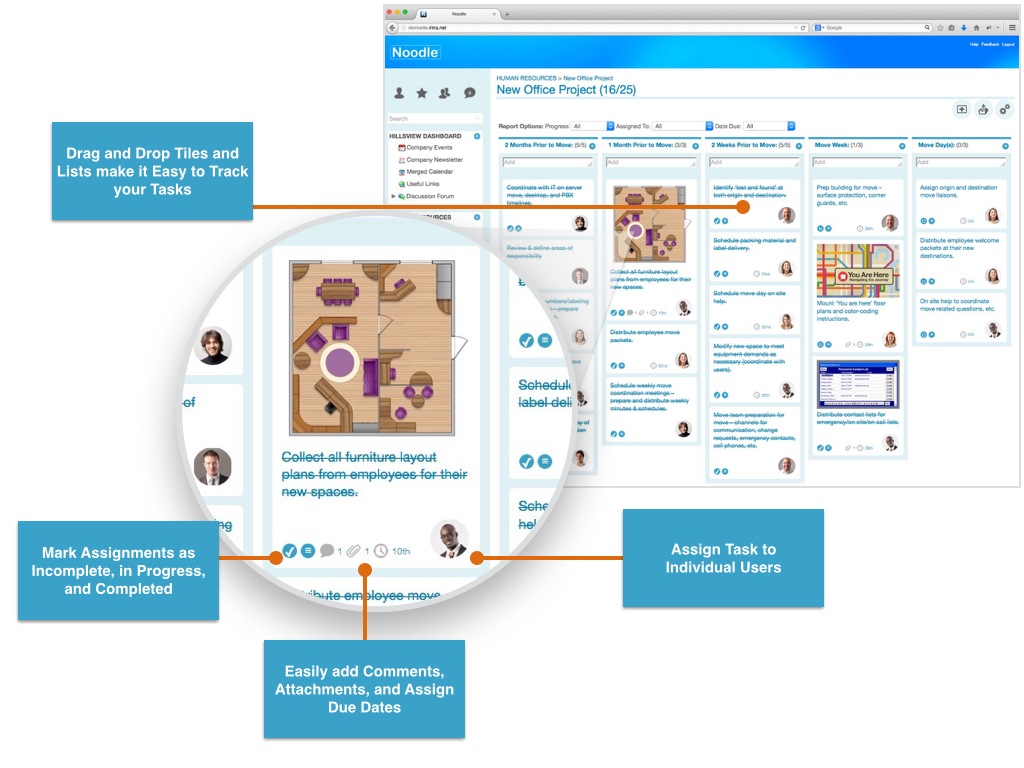 Just a few example Task Manager uses:
Software Development
Company Roadmaps
Event Planning
Individual Task Management
Website Design
Company Meeting
Onboarding
Need some help finding the most suitable intranet software for your company or organization? Our Noodle Experts are happy to give you a guided tour of how Noodle can help your company collaborate and become more efficient.