We are less than 2 weeks away from the 2015 ITEXPO in Anaheim. The Noodle team is gearing up for the long trip from Canada and excited for the opportunity to showcase our software. The team will be providing live demonstrations of Noodle, and give you the chance to try out the product and speak with the experts. Did we also mention the ITEXPO will be giving away several big prize giveaways at the event? There is a $15,000 Grand Prize giveaway and 5 other prize packages. Some of the prizes include: 3D printer, Macbook Air and watch, Travel and Fashion packages and gift card giveaways.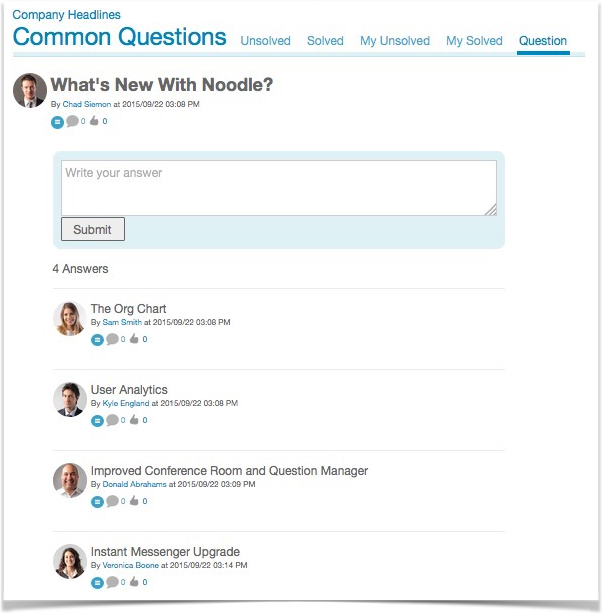 One of the features Noodle will be presenting, is the improved Question Manager application. This application allows employees to ask, answer and archive questions and create a valuable knowledge base of information. An employee can ask a questions and multiple people may respond. The person who asked the question can choose the best answer and save it as an archive. These questions are searchable as well through the search function. Questions can be categorized as unsolved or solved. The look and interface of the application has been revamped to make it easier to use. Come by Booth 522 to ask us your questions and try out Noodle yourself.
Keynote Speaker Feature:
Skype will be a major focus at this year's event. Microsoft will also provide a keynote speaker as well. Director of WW Product Marketing – Skype for Business, Paco Contreras Herrera will be a keynote speaker on Tuesday, October 6th at 4PM. Paco leads worldwide marketing and sales strategy for Skype for Business where he responsible for global go-to-market strategy and execution for Skype for Business. Paco joined Microsoft in August 2003, serving in many leadership roles in Product Management, Marketing, and Strategy with business groups including Productivity, CRM, and Unified Communications, covering products including Lync and Skype for Business, Office, Office 365, and Dynamics CRM. Prior to Microsoft, he held roles in consulting and sales with KPMG and Oracle, covering multi-national enterprise customers. He holds an Engineering degree from the Universidad Panamericana in Mexico and an MBA from the Darden School of Business at the University of Virginia.
Build a new Intranet Today!
Your Intranet URL will be based on your work email domain. A password will be sent to your email for access to your new Intranet.