If you've been following our Blog, we've been discussing the upcoming ITEXPO in Anaheim, California. The event runs October 5-8th, and will have over 100 exhibitors, training and workshop sessions, speaker presentations and much more. Noodle will be at Booth 522 next week as part of the action. Come see us and companies of all sizes representing all sectors of the IP Communications industry.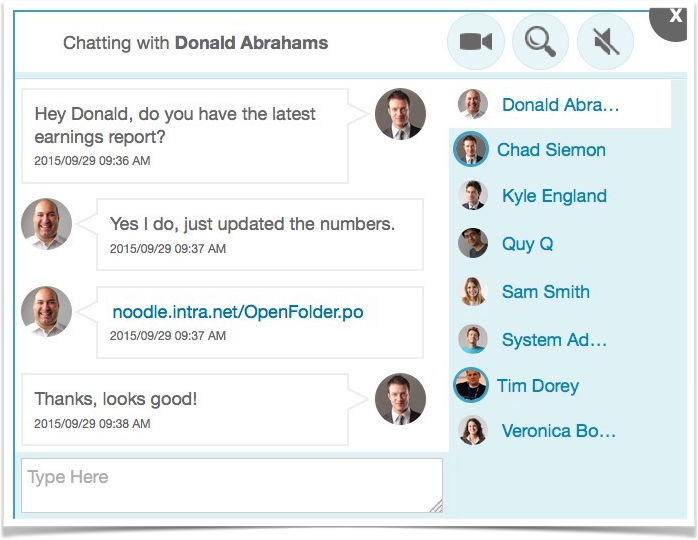 Next week you will have a chance to see and try a pre-released version of our Instant Messenger. The interface and experience has been improved and has made it easier to quickly share information and collaborate with others. Share files in by dragging and dropping files in Noodle into the Chat box for instant sharing. Users can even embed photos, videos and links in their messages. You can also enable video chat to have one on one chat conferences. Or invite up to 5 other users to hold a 6 person video conference. Communication just got a lot better and easier in Noodle.
Keynote Speaker Feature:
The last speaker we will highlight before the big event is, Candace Worley, SVP and GM of Endpoint Security – Intel Security. Candace is the senior vice president and general manager for the Endpoint Security Business, responsible for developing and executing the strategic direction around Endpoint Protection for PCs, laptops, tablets, mobile phones, and embedded devices. She is also responsible for Data Center Security for physical, virtual and cloud environments; and Data Protection solutions for corporate assets. Worley leads the engineering, marketing, and sales functions that drive worldwide growth for the Endpoint Security business and is accountable for the business unit P&L.
Worley joined McAfee in 2000 and has 20 years of technology leadership and enterprise product management experience. Prior to McAfee, she spent seven years with Mentor Graphics where she led a team of product managers responsible for electronic design automation and electronic component software.
Worley holds an MBA from Marylhurst University and a bachelor's degree in management from Oregon State University.
She resides in Beaverton, Oregon and enjoys hiking and gardening in her free time.