Start Building your new Intranet Today!
Free 30-day Trial. Full Feature Set. No credit card. No commitment required. An email will be sent to you with your secure login credentials. The URL to access your Noodle will be based on your company email address.
Noodle intranet's, 'Workflows' feature, allows you to facilitate common tasks in the workplace and expand the features of Noodle applications. Streamline HR processes and manage IT tickets. Auto-manage old or outdated documents. Get the most productivity out of your intranet by creating Workflows to automate tasks, send auto-notifications and more. There are dozens of different uses with hundreds of potential paths. This means that the tool is versatile enough to be used for many different tasks. Here, we look at just a few things you can use Noodle intranet workflows for to help save time and money.
Database Workflows
With Noodle's database application, you can create your own e-forms. Keep a database of your form entries and generate custom reports. You can use workflows in the Database application for a variety of uses, such as:
Time-off/Vacation Requests – Small company without a Time off or Holiday tracker? Still using Excel to keep track of vacations? Create a form in Noodle to make it easy for employees to log their time-off or vacation requests and send them for approval. The approval could be set to a specific person or group. That person receives an e-mail with the request and a link to the database entry. Here they can review the request and choose to approve it or not. The workflow then sends an e-mail notification to the employee stating if their time-off was approved or not.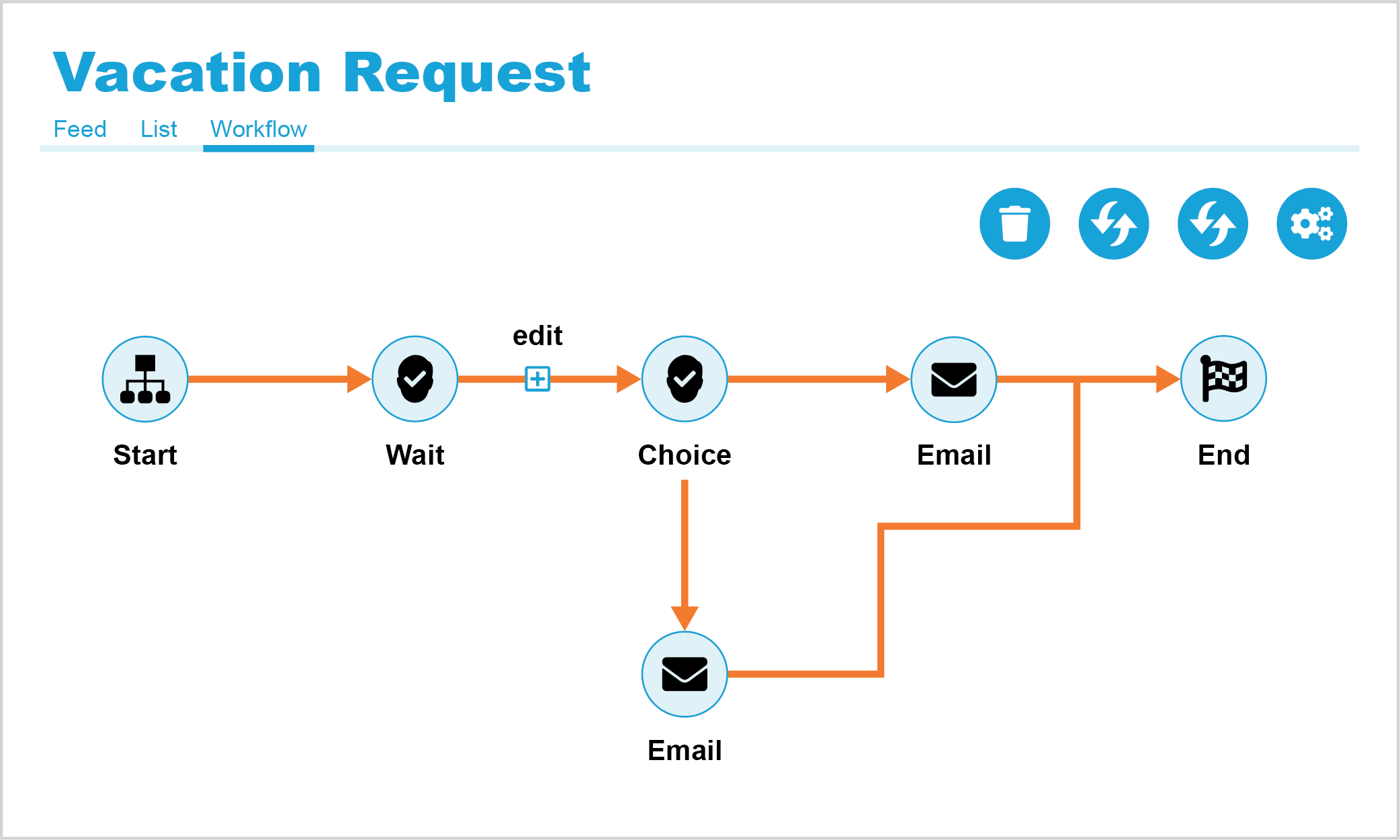 Expense Reporting – Do you require your employees to submit a weekly or monthly expense report to receive reimbursement? Create an expense form with the ability to upload a scanned image of their receipts. In the workflow, automatically send out an e-mail on a weekly or monthly basis to remind employees to submit their Expense Reports. Then send this through an approval system with automated messages.
IT Trouble Ticket – Create a form to allow employees to submit IT Trouble Tickets. In the workflow, auto-send the notification to the IT team. The IT team can review and comment in the entry as well as uploading files. This is helpful for collaboration between first level and second level support. They can then set a workflow to automatically move the entry to a "Closed" folder when the issue has been resolved.

Document Management
Workflows help promote collaboration and makes it easy to achieve in your workplace. At the same time, it's sometimes difficult to manage document changes and revisions when there are multiple contributors. It's also easy to fill up all your folders with irrelevant or outdated content. Using workflows can help mitigate these issues and make it easier to manage your documents.
Auto-Archive/Move/Delete – Do you have material that constantly gets updated, or have new revisions of? Or do you have a lot of folders where employees save documents that are old and never viewed? Set up a timer in your workflow that triggers a file to be moved/archived or deleted after a certain amount of time. Want to easily backup documents that are over 6 months old. Create an archive folder and set the timer for 6 months, so that after 6 months the file gets automatically moved to the created folder.
Document Collaboration – Maybe you have some spreadsheets or presentations that more than one person needs to contribute to. Set up a workflow to trigger notifications to users who have not contributed or modified the document as a reminder. Running a project? Set up an approval workflow that sends the document through a chain from one user to another and then approved or disapproved by the project manager. With each action triggering a notification to keep the team in the loop.
Calendar Workflows
Calendar entries can be sent through an approval process as well as setting up auto-notifications. This could be used for room booking, scheduling meetings, or even another option for time-off requests. Or just use workflows to keep your calendar clean by auto-archiving/deleting old entries.
Workflow Support
Since there is almost limitless ways you can use Noodle's workflow feature, you may need a hand or some guidance. Our support is available to help provide you with information regarding workflows and how to build them in your intranet. Also visit our Knowledge Base for more information regarding Workflows. Not sure if Noodle's workflow can fit your needs? Just ask one of our
Technical Solutions Consultants and they will be glad to provide you information and resources. Start making your own workflows now by scheduling a demonstration to see all of Noodle's applications in action. Get more done with Noodle intranet.