1.  Micro Blogging / Status Updates
Most of us have sent a text message before. It's a very easy way to deliver a message to one or more people. Status updates are very similar in the way that they are easy to post and simple for other users to read. Whats great about status updates is they go beyond a simple message, they can include links to videos, they can include photos, you can even get feedback from several users with comments and our like button.
Examples of Status Updates: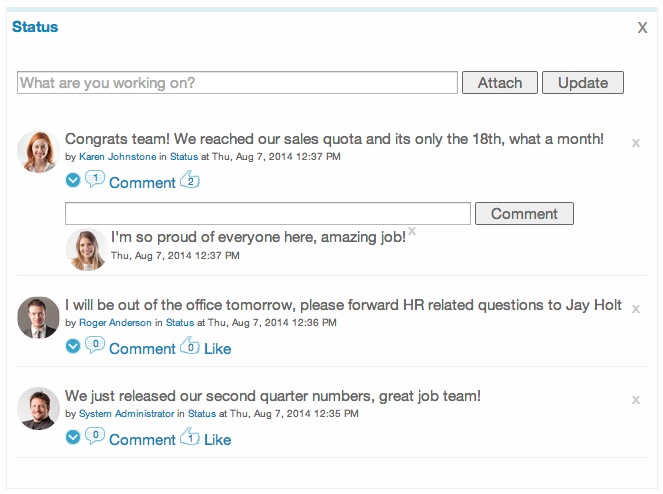 2.  Coffee Break / Water Cooler Section
The intranet is an online extension or your work environment, and what's a work environment without a water cooler or coffee area. There are several break room ideas we have seen over the years, many of which help increase user engagement and overall intranet satisfaction levels.
Examples of Coffee Break Content:
Office Photo Albums: Vacations, Babies, Pets, Funnies etc.
Riddle of the Week: I'm tall when I'm young and I'm short when I'm old. What am I? A Candle.
Several other ideas include current industry specific news, funny viral videos, and company contests or promotions. If you want more ideas of what to add to your coffee break zone perhaps you could create an online suggestion box, which leads me to number 3 on my list.
3.  Online Suggestion Box
Do you remember having an actual box where employees would write out suggestions and leave them inside of it for management to collect at the end of the week. Those days are now over. Using our Database Application you can quickly create an interactive online suggestion box and have the suggestions sent directly to a user of group of users via email or Instant Message. Another application is the poll application which gives you the ability to get anonymous feedback on a particular question or company issue.
Examples of Polls:
Which of the following slogans would suit our company best for our new marketing campaign?
We are ordering in lunch for the office on Friday, where would you like us to order from?