Start Building your new Intranet Today!
Free 30-day Trial. Full Feature Set. No credit card. No commitment required. An email will be sent to you with your secure login credentials. The URL to access your Noodle will be based on your company email address.
Using Hashtags on your intranet is one of the best things you can do to keep your intranet well organized and increase employee engagement. Not only is it simple to add tags to your content in Noodle, you will also always have a simple way to find content quickly.
The use of Hashtags in the business environment is relatively new. Hashtags were traditionally used and made popular by the social media platform, Twitter. For those not familiar with Twitter, the hashtag evolved organically by Twitter users as a way to categorize messages. To make it easier to find information on specific topics. It's use has grown in popularity and is used by other social media, and now business, platforms.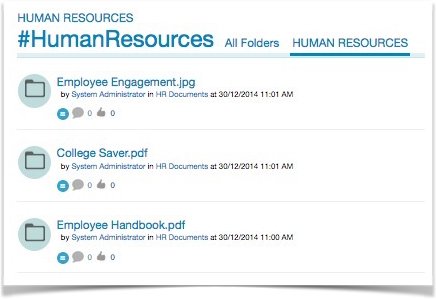 Unlike Twitter, Noodle doesn't require the users to know what hashtags to use or search. Instead tags are set by an administrator and can be selected by users when they are adding content. The tags display at the top of the page and will show you how many items are tagged by that word/phrase. So you have complete control over what tags are used in your intranet.
Hashtags use in Business
While it's true that the business use for hashtags differs from the social purposes, the need is the same. To pass along information that can be grouped and easily found by others. While hashtags in social media have become more of a way to provide social commentary or to use for sarcasm, there is still legitimate business use.
"There's a lot of power in this tool to reinforce your company's culture and values, so don't overlook it. Instead, use it to strengthen the way you communicate with your staff and establish a connection between people." – Charlie Lofthouse, Reward Gateway
Not to mention, hashtags are a fantastic way to keep your information on the intranet organized by using tags as aways for user's to find content on a specific topic. Being able to filter content from all different types of applications (calendars, blogs, documents etc.) makes it easy to find the what you are looking for.
Tips and Tricks
Your employees will need time and training to utilize intranet tags properly. Here are some tips to help them get acquainted:
Try to be consistent with naming format (i.e. spelling, no spaces, max length)
Initially, set up as many tags as you can that are related to your business, for your users to choose from
Allow user's to suggest hashtags using the Database Forms to collect requests
Collect feedback from users on how they utilize Hashtags for their work
Have user's vote on a favourite hashtag and hold a draw or contest to spike interest in using tags
Feature a Hashtag of the day/week to also spread initial interest
Try not to apply too many tags to one item
Add a prefix for tags that you want to categorize by a certain team/location/department if you are using a common term for the tag
Not Using Noodle Yet? Book a Demo Today!