The Shift To Mobile
Where and how employees work these days are changing faster than ever. With people conducting work from home, while on the road, visiting various offices/locations, access to their tools and files is becoming a higher priority. Cloud storage services has made this possible by being able to access documents from anywhere, even if you are outside of your corporate firewall. Being able to access your documents from anywhere using any device, including mobile, is becoming crucial for some employees to effectively do their jobs. Whether you are travelling on business, work in multiple offices or from home, you need to be able to complete tasks and find information no matter where you are located.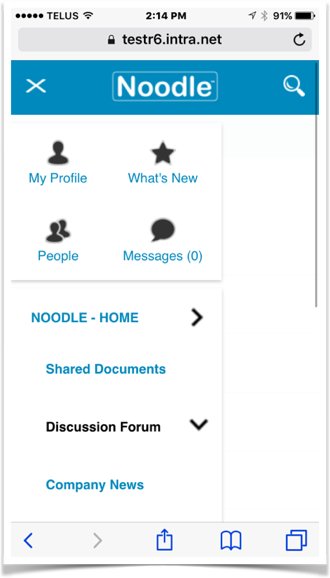 Our mobile phones have become so integrated in our daily lives that it is used for everything from browsing the internet, watching videos and listening to music, games, business and productivity apps, scheduling, and hey they even make phone calls! A recent Gartner report stated that 61% of workers report working outside the office at least part of the time. While number of devices managed in the enterprise increased 72% from 2014 to 2015. This stat is important if your business is using an out of date intranet with no mobile platform, or that would require your own team to develop your own in house solution. Your intranet site has to adapt to many sized screens on multiple different platforms.
New Mobile UI from Noodle

Noodle has provided both a responsive design option and a mobile option for a while now. Recently we have revamped and upgraded our mobile experience to make it easier to use no matter what device you use. Although you don't have the full features to the site applications as you would in a responsive desktop view, it does provide quick access to content you will likely be using most on a mobile device. Some applications are difficult to display on such a small screen, but are fully accessible via the responsive desktop view. With Noodle's mobile interface you are able to:
View Profiles and Company Directory
Access Activity Feed and update Status
Use the built-in Instant Messenger with one-on-one video chat
View calendars and download documents
Read blogs and collaborate with employees
Fill out forms and approve requests
View or add photos/videos
Opt to display as the Desktop view if you need more tools and functions
Mobile app or Web Based?
This question gets asked often. It's also debated which is better to have. Just like everything else with enterprise software, it depends on your company.
According to SteadyRain there are several pros and cons for each. A dedicated mobile app could benefit if you want to integrate with other mobile apps, but they require additional development, raises costs, requires updates and providing download options. A web-based responsive design is more cost effective and is works across all platforms with no extra downloads or updates required. You also have more control over the security options of your site. While potential user speed issues being a suggested con due to the number of users connected and making queries.
Noodle has brought the best of both worlds together with our new Mobile UI. Making sure that the site is easy to access and manage while keeping our product competitively priced. Our Mobile UI is:
Accessible through any web browser
No download or updates required
User option to view as mobile or responsive desktop
Fast speed, despite being web based
Enable Push notifications on Android devices
Connect with your mobile communication apps (like phone and e-mail)
Two-Factor authentication to protect accounts when logging in on a new device
As the way you work evolves, so does Noodle. Be on the look for more upgrades and improvements to our Mobile UI in the future, as well as our other applications and features as we continually listen to our clients to help provide them the best experience for their users.
Not Using Noodle Yet? Book a Demo Today!