Start Building your new Intranet Today!
Free 30-day Trial. Full Feature Set. No credit card. No commitment required. An email will be sent to you with your secure login credentials. The URL to access your Noodle will be based on your company email address.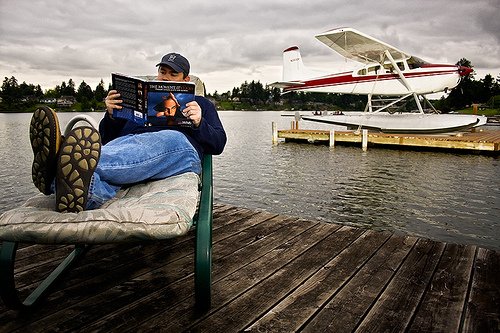 Before you head to the lake or board the flight to your summer vacation, load your Kindle with these titles. You'll return refreshed, recharged, and reinvigorated to make your company intranet the best it has ever been.
1. Enterprise 2.0: Social Networking Tools to Transform Your Organization (Jessica Keyes, 2012)
This is good reading for intranet managers who struggle with the social aspects of the intranet. Keyes shows how enterprise can use social networking in human resources, project management, operations, and other areas. For example, she covers how enterprise can benefit from internal blogs and discussion boards, as well as how to get staff ready for social networking.
2. Employee Engagement for Everyone: 4 Keys to Happiness and Fulfillment at Work (Kevin Kruse, 2013)
Need to increase engagement in your intranet? Read this book and learn practical ways to achieve that. What sets this book apart from other books on the same topic is the focus on understanding your own engagement style and using that to improve engagement in your environment. Kruse backs up his ideas with research, but delivers doable, actionable information as well.
3. Emotional Intelligence for Project Managers: The People Skills You Need to Achieve Outstanding Results (Anthony Mersino PMP, 2013)
Emotional Intelligence (EI) was achieved prominence in the '80s and '90s, but interest seems to have waned. Fortunately, Mersino reminds us that EI should not be devalued or forgotten. This book is all about leveraging EI to achieve project goals and manage teams. You will learn how to strengthen and use people skills to communicate effectively, inspire cooperation and engagement, and keep staff morale high.
4. The New Rules of Management: How to Revolutionise Productivity, Innovation and Engagement by Implementing Projects That Matter (Peter Cook, 2013)
This isn't just about managing and executing projects. It's about implementing projects "that matter." Read this book and learn how to generate ideas for high-impact intranet projects and lead their successful execution. This will help you identify and implement intranet projects with the biggest pay-offs for your team and organization.
5. Connecting Organizational Silos: Taking Knowledge Flow Management to the Next Level with Social Media (Frank Leistner, 2012)
Silos are the bane of knowledge management in the enterprise. Setting up an intranet with social features doesn't automatically break down these silos. This book shows you how to use social media within the enterprise to finally connect information silos and get knowledge flowing more freely. It includes advice on measuring and reporting results.
6. Opening Doors to Teamwork and Collaboration: 4 Keys That Change Everything (Judith H Katz & Frederick A Miller, 2013)
Collaboration has become a buzz word in the enterprise. What does it take to achieve it in the workplace? Just four behavioral keys, according to Katz and Miller. Better communication, a sense of shared mission, excitement, and energy result when you follow the "elegantly simple framework" of Opening Doors.
7. Employee Engagement and Communication Research: Measurement, Strategy and Action (Susan Walker, 2012)
As intranet manager, you have to get the pulse of your users in terms of their engagement and communication levels and needs. Get this book if you have no idea how to conduct research so you can stop guessing, or want to improve how you've been doing user research. Walker guides you through using qualitative or quantitative methods, designing questionnaires, getting higher response rates, interpreting data, turning research results into a story, and using the results to drive action and change in your organization.
8. The Human Relations Matrix: The Secret to Workplace Productivity (Jeremy Henderson, 2013)
Most of our clients set up their intranets, because they want to improve productivity. Henderson talks about how to diagnose productivity issues, and create programs to address them. Read this book to learn what factors go into workplace productivity. Then you can better define, understand, and enhance your intranet's role in making your company a more productive place.
9. The Bounty Effect: 7 Steps to The Culture of Collaboration (Evan Rosen, 2013)
The sequel to the author's "The Culture of Collaboration," The Bounty Effect refers to what happens when organizations transform controlling to collaboration. Rosen says most of the time, companies are forced into this transition by disruptions such as natural disasters and global downturns. However, by following the seven steps in this book, you don't have to wait for a catastrophe to turn staff into knowledge workers who get things done through collaboration.
10. Peopleware: Productive Projects and Teams, 3rd Edition (Tom DeMarco & Tim Lister, 2013)
This is the third edition of a long-time bestselling book for software developers. The authors' main argument is that software development issues arise from human, not technical, factors. This is a classic for intranet managers who come from IT backgrounds and need to connect the human and social aspects with the technical side of establishing and managing intranets.
So which of these books will you be cuddling with on your vacation? Which ones have you read? What are your thoughts on them?
Did I miss any good books for intranet managers that were published in the last 12 months?
Let us know!