Start Building your new Intranet Today!
Free 30-day Trial. Full Feature Set. No credit card. No commitment required. An email will be sent to you with your secure login credentials. The URL to access your Noodle will be based on your company email address.
Blogging about Blogs!
Chances are you either follow a blog, or have a personal blog yourself. While others may see blogs as just a personal diary, exposed to the public. The real idea is for a writer to share experiences, observations and thoughts on a variety of topics. Blogs have also made their way into the business world in the form of marketing and industry blogs. This can be a great way to not only speak about and allow people to learn more information about your business, but also to share your own expertise in your respective industry.
One or more regularly updated blogs on your intranet is a great way to increase engagement in your intranet. Fresh content encourages the employees to regularly check the site, or even subscribe to the blog by e-mail. Empowering the employees to write their own blog posts, or to comment on other blogs, helps improve communication and allows you to grow a social, collaborative culture.
1. CEO blog
We previously spoke about CEO blogs, in an older post. As we stated there, a monthly brief blog is a great way to set an example to help establish this collaborative culture. It allows them to learn about and from their CEO and to have more interaction with them than they would normally have. If your CEO is pressed on time, suggest they share an industry related post from another source and have them summarize their own opinion on the subject, or how the subject may be able to help their employees in their day to day work.
2. "________ of the Day"
Another good way to encourage employees to regularly visit the intranet, is by having a blog that is updated on a daily basis. This can be achieved with short posts such as: "Quote of the Day", "This Day in History", "Recipe of the Day", "Photo of the Day", "Cat Video of the Day" etc. Anything you can easily add to the site on a daily basis that is fun, informative or even inspiring. You can automate this by embedding other web widgets that will dynamically update with a new quote, recipe etc. every day.
3. Spotlight on an Employee
If you work in a large office, work from home or out in the field, it can be difficult to get to know or learn about your co-workers. A blog is a great way to get to know new people. Develop a personal questionnaire template that you can distribute to an employee once  a week to fill out to share information about themselves to their co-workers. This is also a fun way to break the ice for new employees. Plus they can always go back and view past questionnaires completed by employees previously.
4. Office "Hacks"
There is tons of content on the internet involving various "life hacks". Typically these are do-it-yourself projects or items that will improve a certain function in your day to day life. You can find (or make up your own) Office Hacks on the internet to share with employees. This could give them ways to keep more organized and improve their workspace, reuse old materials or accomplish tasks more effectively and efficiently. Things like hanging a wire basket under your desk to hold wires and cords so you don't kick them with your feet, or using post it notes to clean lint and effort from your keyboard, are cheap and easy ways to improve your workspace.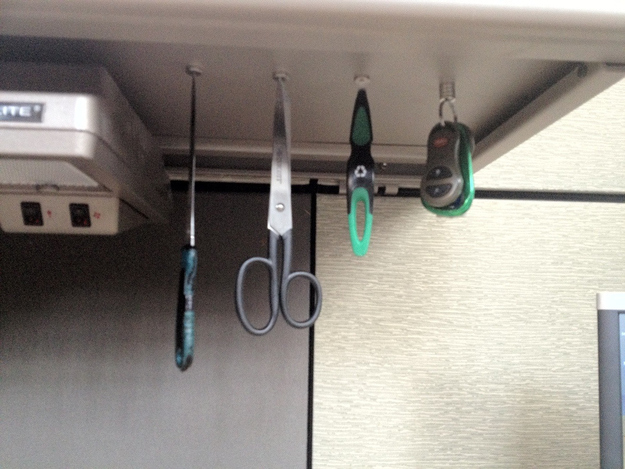 5. Expert Blogs
Of course, a blog written (or interviewed) by a subject expert is a great way to share knowledge on a specific subject with your employees. This can be written by someone in your organization (maybe your IT Security Officer wants to educate the staff about internet security) or from an outside source. If it's form an outside source, make sure the content author receives all proper credit. Then use the commenting functions to have an active discussion on the subject. It keeps the blog interactive and allows others to share their opinions or feedback on the subject. Not only will this help to pass knowledge to your employees, but again, it will be something that will engage them to visit the intranet.
These are just 5 quick suggestions to get you started with implementing or improving blogging on your intranet site. Remember, blogs are also a great way to cut down on e-mail, target a specific group, and be able to allow input from others while maintaining analytic records.
Find out more by scheduling a demonstration and receive a free 30-day trial of Noodle to see how we can improve communication and information sharing in your workplace.