Traditional Intranets provide a repository of information, provide HR resources and information, and stay up to date on news with the company. Social Intranets, like Noodle, go further than being a knowledge base, they build a community. Noodle wants to help your employees improve communications and encourage collaboration. Which is why we are excited to release our latest update that gives more freedom to employees to share and get to know each other better.
Noodle's, "My Profile", has been improved and expanded to allow more customization and more sharing. This is even more important these days when employees work from home, remotely from a different office, or out in the field. Employees do not get to know each other as well as in the past and collaboration suffers because of this. Noodle wants to change this by giving a platform for your employees to personalize their online profile and engage in the social culture of your business.
Social Networks Arrive in the Workplace
It's not a secret anymore. Everyone seems to use a form of social media these days. Many people use social media for business and to build networks. Encourage the social sharing outside of the office to help improve relationships. With "My Profile", users can share direct links to their Twitter account, Linkedin, Facebook, Skype and more.
Your Own Personal Digital Workspace
You most likely have a desk, an office, some sort of workspace you call your own. You should also have a digital space to get work done, store information and the tools to do so. We want you to think of your profile in Noodle as your digital office. Decorate with photos of your family, have a filing cabinet for your documents, a White Board for your project planning, track dates and meetings on your Calendar and so much more.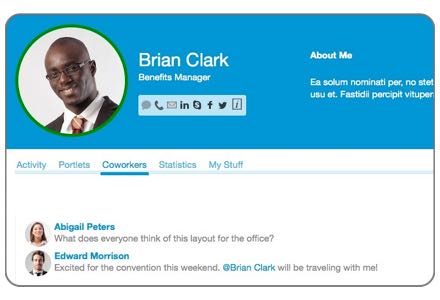 The New Water Cooler
Co-workers used to gather around the water cooler to talk about their weekend, share ideas, build relationships. Status feeds are the new water cooler. In Noodle, you can add your co-workers and view their status updates. See what they are working on and be able to comment on and share content they have added. Even from home or another office, employees are able to keep up to date with each other.
Today, businesses are looking for more than a place to store information, they want to create a culture. Employees want to get to know their co-workers and be able to work together no matter where they are located. Noodle believes that our new "My Profile" is a strong step in creating this social culture. Build your own profile now by signing up for a free 30-day trial of Noodle, The Social Intranet.
Noodle offers a full suite of powerful applications, like "My Profile". Explore more features of Noodle HERE!