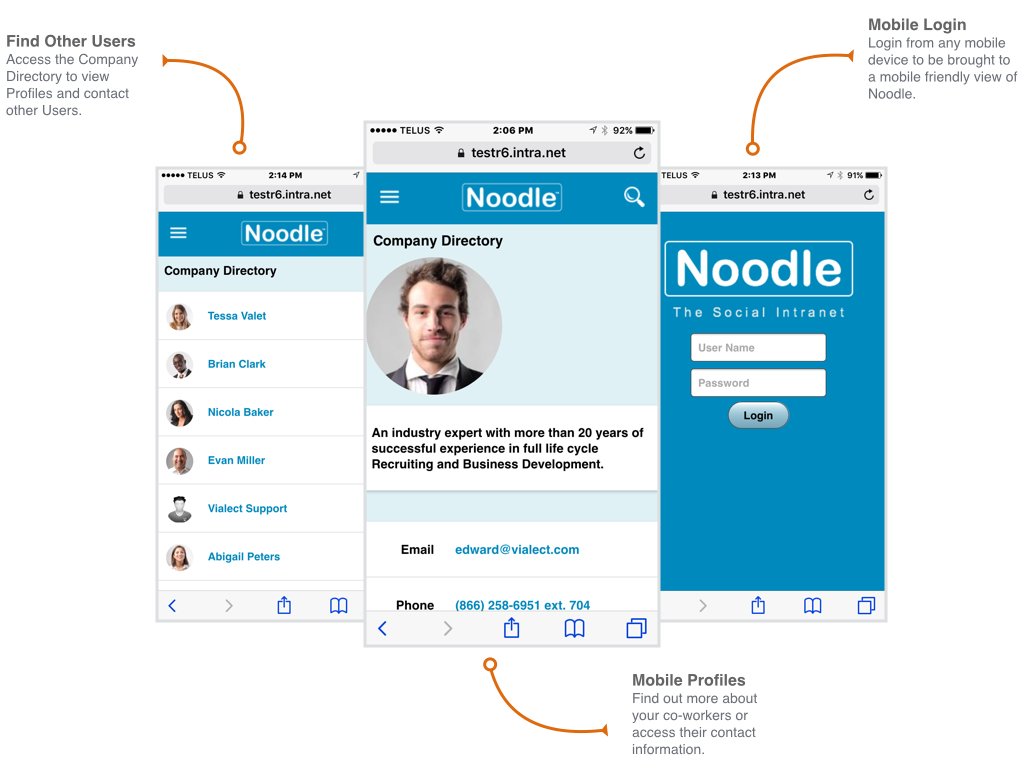 It's inevitable that the intranet of the future is a mobile intranet.
But don't hold your breath. We're a long way of from perfecting intranet's mobility.
In fact, in its search for the 10 Best Intranets of 2013, the Nielsen Norman Group concluded that the growth of intranet mobile optimization seems to have stalled. Only one of the winners had a special mobile version of the intranet, compared to 3 in 2009 and six in 2011.
At Vialect, the mobile Noodle intranet continues to be a work in progress.

Issues Covering Mobile Intranet
Understandably, creating a mobile intranet is not simple. There are many considerations and serious issues to think of. One is security. The other is the variety of mobile devices and platforms available. As well, one can take many paths to get to a mobile intranet. Do you create a stand-alone app? Use HTML5 or go for a responsive design — one that adjusts automatically depending on what device is being used?
Mobile access is not the only goal. After all, do you really want to navigate your entire intranet on your tiny mobile phone? The vision is to create an intranet that is optimized for mobile.
James Robertson of Step Two Designs suggests the best place to be is "a mix of tailored interfaces and responsive versions of intranet content." Sounds wonderful, but easier said than done.
Intranet Features On-the-Go
And then there's the question of what functionalities should be available on a mobile intranet. You could make your 5000-page intranet mobile accessible, but do users really want to work on spreadsheets on their mobile phones? What functionalities do they really need when they're on the go?
The answers will vary with each organization, and even among employees within the same company. Robertson suggests an initial rollout with a small number of mobile features and functionalities. I'm guessing the following would make a good start:
Text-based Documents
Employees will want to be able to read manuals, policies, guidelines and similar text files from their mobile devices, for quick reference when they're away from work.
News and Blogs
No one wants to be left in the dark. Workers will want to keep abreast of what's happening in the organization through news portlets and blogs on the company intranet. They'll want to be able to post comments too.
Staff Directory
It's always handy to have the staff directory, with a click-to-call feature and instant messaging. Especially in a large organization, you don't want all 100 or 1000 of your co-workers in your phone's address book. Yet you want them at your fingertips when you do need to contact somebody.
Databases
Some databases will be needed on-the-go. For example, sales staff would want their customer and leads.
Electronic Forms
E-forms for leave requests, booking meeting rooms and other office resources, travel requests and others. This feature, though, gets tricky, because e-forms won't display properly in all devices. They can get difficult to use on small screens such as smartphones.
What Features Should Be Mobile?
In your case, which features would you include in your mobile intranet? And how would you go about creating it?