Start Building your new Intranet Today!
Free 30-day Trial. Full Feature Set. No credit card. No commitment required. An email will be sent to you with your secure login credentials. The URL to access your Noodle will be based on your company email address.
Noodle has many applications but that doesn't guarantee intranet success.  Noodle contains a powerful feature that will help ensure your intranet is a success.
The Corporate Wisdom feature encourages people to contribute and review content within Noodle.
What's your Corporate Wisdom?
Many collaboration and intranet projects fail due to inactivity. This inactivity is the result of outdated information, hard to use tools and employees not being encouraged to review and contribute to the overall success of the site. Noodle solves this problem by monitoring the Corporate Wisdom of each employee.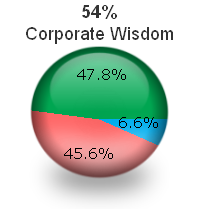 The Corporate Wisdom is calculated by the total amount of items an employee reviews and the total amount of items the employee creates. These numbers are then added together and compared to the total site content and this produces the user's Corporate Wisdom percentage. Corporate Wisdom also fluctuates as new content will lower a users percentage.
With the Corporate Wisdom feature you will be able to monitor success of the site and employees will use it to monitor their own success within the site. Vialect has found people are naturally competitive by nature and want to have the highest Corporate Wisdom percentage in the company. This will benefit your company as the employees will be educating themselves about your business.